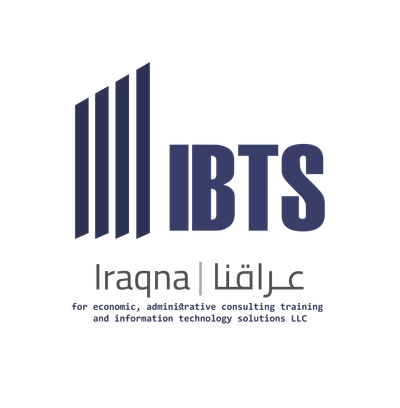 Iraqna for economic, administrative consulting, training and information technology LLC
The company was established in Baghdad / 2013, under the letter of the Registrar of Companies
No. (02- 82934)
On 27/3/2013.
Objectives of the company:
1- Providing economic consultancy in all fields, especially finance and banking.
2 - Providing economic advice to private and public enterprises and companies, preparing economic feasibility studies, and providing economic advice for projects for private and public companies.
3 - Adoption of training and development in all economic fields, especially in the financial and banking.
4- Preparing studies and developing financial and accounting information systems.
Our company seeks to contribute to building a sophisticated Iraq in all fields by raising the level of performance of the employees in the institutions to the modern international level and updating the policies and procedures in all fields of work of the companies and institutions whose programs are prepared according to the best international contexts.
We always strive to develop our expertise in all fields to provide the best services and independently to reach sustainable growth of business according to the best international standards and practices, in accordance with Iraqi legislation and laws
We believe in the pivotal role of training in developing the work of Iraqi financial institutions. We have extensive experience in all fields of training under the supervision of consultants and experts specialized in the needs of Iraqi institutions and the requirements of international institutions in these fields.
Our advisory services have been distinguished by their distinctive character in every work entrusted to them by the Iraqi financial institutions to which we have provided our consultancy services, in order to adopt scientific standards in the selection of our consultants and specialized experts.
Our company also provides its services to government agencies and private banks in all major professional fields through consultants with expertise and qualifications at the local and international levels, thus making them trust and respect their customers.
Our services include:
1- Economic feasibility study.
2. Preparing policies and procedures for banks in accordance with international best practice.
3. Organizational structure and functional structure of financial institutions.
4- Job description cards
Joint cooperation
Center for Banking Studies - Central Bank of Iraq
Consulting and Training Center - University of Jordan
Association of Iraqi Private Banks
Accounting and Auditing Organization for Islamic Financial Institutions (AAOIFI)
Osoul Training & Consulting
Certifications and training company at
Financial Area:
Our company is the only authorized agent in Iraq for the international center (KRYTERION global testing solution)
It provides certificates of accreditation and training in:
1- Certified Anti-Money Laundering and Terrorist Financing Specialist (CAMS)
Issued by the Association of Certified Specialists in Combating Money Laundering and Terrorist Financing (ACAMS)
2. Certified Specialist in Combating Financial Crimes (CFCS)
Of the Association of Certified Specialists in Combating Financial Crimes (ACFCS)
Islamic Banking: -
Our company is considered an important supporter in the field of Islamic banking as the first to hold a course
1- Certificate of Certified Islamic Banker (CIB) in Baghdad, issued by the General Council of Banks
Islamic financial institutions (CIBAFI) and conduct their own cooperation examinations
With Osoul Consultancy.
2 - A formal educational partner of the Accounting and Auditing Organization for Islamic Financial Institutions (AAOIFI) ..
Audit and control:
1 - Certified Internal Auditor (CIA) issued by the Institute of Internal Auditors (IIA) in cooperation
With PRC (Powers Resources Corporation)
We offer online training.
2. Certified Internal Control Specialist (CICS)
In cooperation with Osoul Consultancy
The only representative in the Middle East of the American Institute of Internal Control (ICI)
information technology:-
Our company is an authorized agent of the International Center (Pearson VUE)
Thus, the company is ready to receive those wishing to take the test to obtain internationally accredited certificates at our accredited center and can offer courses in the IT field such as
Cisco ccna 200-125 routing and switching certificate and other required certificates in the Iraqi market.
Electronic Training:
Our company provides electronic training system in a certified manner:
- Salalem platform: an integrated electronic teaching platform equipped with 35 educational materials described in the educational system does not exceed the duration of the course of two minutes. At the end of each course there is a test (success / failure)
The trainee receives a certificate of participation and success on his own account and printing.